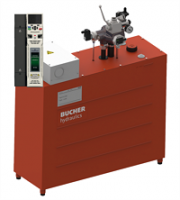 The Bucher Saturn ALPHA is the VVVF version of the Saturn BETA. Quiet in operation, with lower energy consumption than the Beta, the Bucher hydraulics is widely used throughout the UK in many high-traffic situations. The Saturn Alpha's proven reliability record over the past decade puts it at the top of many consulting engineers' specification lists for premium energy-efficient hydraulic drives. A3 compliance is available as standard.
Looking for other energy-efficient VVVF options? Click on the links below to see what we can offer to our customers:
For more information contact us by phone, email or our quick online form.